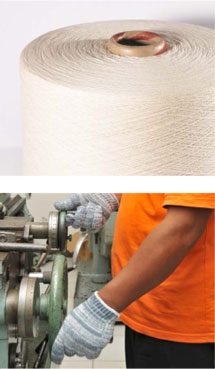 PT. SASMITA ABADI GLOVES is a global leader in glove manufacture industry. We are manufacturing gloves in many different shapes, models, and using various type of materials. Our products include gloves from 100% Pure Cotton, Polyster-Cotton mixture and include products like PVC-dotted gloves, Terry gloves, and Cut Resistance gloves.
We are Indonesia's first manufacturer to export industrial gloves. Our export destinations include countries like the United States of America, European countries, Japan, Siangapore, India, and Middle East. Our export experience brings confidence to expand our market.
We emphasize on high product quality with competitive price and good service. The key to our high quality is that we produce our own cotton thread. Our factories run under our technicians direct supervisions, ensuring stringent quality control so that our gloves achieve or exceed the quality objectives demanded by our customers including weight, size, and color uniformity.
welcome to
SASMITA ABADI GLOVES
Excellent Quality, Best Price & Fast Shipment
PT. Sasmita Abadi Gloves is Indonesia's first manufacturer to export industrial gloves. To become the leader in gloves manufacturing by continually improve our product quality, offer competitive prices and maintain good delivery schedule to compete in global market.